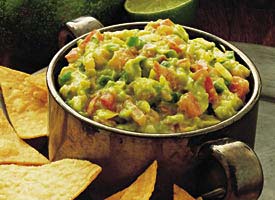 Here is one of my favorite dips to make for large parties - I just had the lab help me make it for a thesis defense party (Congrats, Dr. Sara!) we were throwing and it was met with rave reviews (I even had to send out the recipe in a department-wide email!).
It's my cousin, Adam's, recipe, so props to him for coming up with a kick-ass combination!
4-8 avocados - diced into small pieces
1 white onion - diced into small pieces
4-6 tomatoes - diced into small pieces
fresh cilantro to taste - cut finely with scissors
1 jalapeno chili - minced
3-6 garlic cloves - minced
juice of 1/2 lime (I like to use a whole one!)
juice of 1/2 lemon (same goes for the lemon)
oregano to taste
salt to taste (I like kosher or sea salt)
garlic salt to taste
pepper to taste
(I also like to add a little seasoned salt, and sometimes some chopped bell peppers)
Gently combine all ingredients. Adjust recipe according to your tastes and the flavor the the tomatoes with the season. If too thick, you can thin with Spicy V8 juice! Serve with tortilla chips. ENJOY!